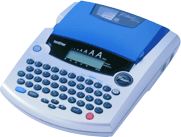 The PT-2300 is a dual operation electronic labeller
It works both as a stand-alone portable labeller as well as having the capacity to be connected to the PC to take advantage of the advanced features available with the CD-ROM software provided.

Uses Unique Laminated Tape Technology






Unlike ordinary labels, Brother labels use laminated tapes for exceptional durability. The lamination ensures that it resistant to smudges, stains, streaks, marks, rips, fading and peeling.

A Brother laminated label is also water-resistant so they'll never run and will always look their best.

Brother labels also adhere to practically any surface. So, no matter what you use them for, they will stand up to the toughest treatment.

User-friendly features
Its hardware features consist of a QWERTY keyboard, 10 character x 2 line LCD display and an automatic tape cutter. It prints vertically, horizontally and has a mirror-printing feature.

Used as a standalone labeller, you can print up to 6 lines and have options of 8 type styles, 8 type sizes, 2 print widths, and 4 font types. You can print on label widths of up to 24mm and use the automatic numbering and repeat printing features for quicker results.

When connected to a PC/Mac computer, applications are endless.

Incorporate pictures, photos, barcodes, logos and graphics onto your labels and take advantage of the database merge function to create customer information labels instantly and easily.

Free editor software
The free editor software contains pre-designed templates to get you instantly started on your labelling needs. With its huge selection in clip art, borders, fonts and Date/Time/Calendar feature you can create labels with that added difference.

It also operates on an optional AC adaptor.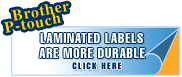 Copyright 2011 Able Business Machines

U3 / 29 Industry Street MALAGA WA 6090 Ph: (08) 9248 9511 Fax: (08) 9248 9522