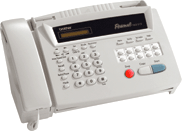 The FAX-515 is the ideal choice for home or on the desk at work. With a fax, phone and copier in one compact, attractive unit.

It offers all the features of many more advanced machines but at a personal fax price.
And with Brother's Anti-Curl System™ and Automatic Paper Cutter, you get plain paper-like performance.

Next Fax Reservation allows you to insert and select the destination for your next transmission while a fax is being sent.

It also offers the Telstra FaxStream Duet®* and Caller ID* compatibility.





Copyright 2011 Able Business Machines

U3 / 29 Industry Street MALAGA WA 6090 Ph: (08) 9248 9511 Fax: (08) 9248 9522